Skills of Victors
A Helpful Encyclopedia of Proven Self Help, Self Improvement, Work Skills & Career Advice.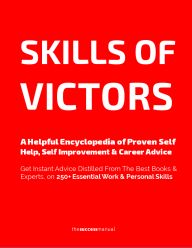 Buy it. Read it. Gift it. Finally, someone gave us all we needed to know to get ahead, in one book. - Mercy Bell (Buyer)

Professional's Guide To The Top Rung. - The Financial Express

Interested in a Successful Career? - The Business Line
More Buyer Reviews

Already Used By 20,000 Smart Professionals, Entrepreneurs & Job Seekers Everywhere.