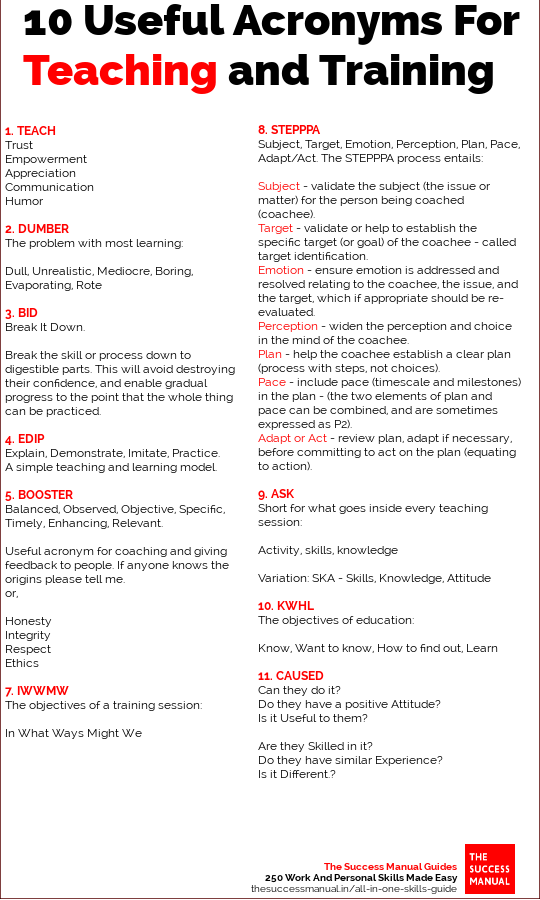 1. TEACH
Trust
Empowerment
Appreciation
Communication
Humor
2. DUMBER
The problem with most learning:
Dull, Unrealistic, Mediocre, Boring, Evaporating, Rote
3. BID
Break It Down.
When training anything to anybody never teach the whole thing all at once. Break the skill or process down to digestible parts. This will avoid destroying confidence, and enable gradual progress to the point that the whole thing can be practiced.
4. EDIP
Explain, Demonstrate, Imitate, Practice.
A simple teaching and learning model.
5. BOOSTER
Balanced, Observed, Objective, Specific, Timely, Enhancing, Relevant.
Useful acronym for coaching and giving feedback to people. If anyone knows the origins please tell me.
6. STEPPPA
Subject, Target, Emotion, Perception, Plan, Pace, Adapt/Act. The STEPPPA process entails:
Subject - validate the subject (the issue or matter) for the person being coached (coachee).
Target - validate or help to establish the specific target (or goal) of the coachee - called target identification.
Emotion - ensure emotion is addressed and resolved relating to the coachee, the issue, and the target, which if appropriate should be re-evaluated.
Perception - widen the perception and choice in the mind of the coachee.
Plan - help the coachee establish a clear plan (process with steps, not choices).
Pace - include pace (timescale and milestones) in the plan - (the two elements of plan and pace can be combined, and are sometimes expressed as P2).
Adapt or Act - review plan, adapt if necessary, before committing to act on the plan (equating to action).
7. ASK
Short for what goes inside every teaching session:
Activity, skills, knowledge
Variation: SKA - Skills, Knowledge, Attitude
8. KWHL
The objectives of education:
Know, Want to know, How to find out, Learn
9. IWWMW
The objectives of a training session:
In What Ways Might We
10. CAUSED
Can they do it?
Do they have a positive Attitude?
Is it Useful to them?
Are they Skilled in it?
Do they have similar Experience?
Is it Different.?
Thank you for reading.
If you found this list useful, please share this with your friends and family.
There are 200+ guides to succeeding in business, career and personal life in The Success Manual. Get the pdf ebook for $12 only.