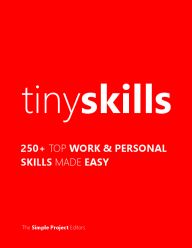 Tiny Skills: 250+ Top Work & Personal Skills Made Easy
The First & Only Encyclopedia of Self Help, Self Improvement & Career Advice
290 Guides On 13 Types Of Essential Skills.
Get 5000+ Pieces Of Proven Advice Distilled From All Time Best Books And Experts.
Traditional Advice Books Are History. They Are Too Many & Too Light.
Tiny Skills Is The Way Of The Future. It Gives You Instant Help On Any Work or Personal Problem.

$4 | 550 Pages | PDF / EPub / Kindle Ready
Bonus: Get Two Free Guides With Your Purchase.
1. 100 Most Useful Acronyms That Teach Us: 100+ useful self improvement tips in form of popular acronyms.
2. 200 Writing Tips From Great Writers: Essential writing advice from 40+ great writers.
Buy Now

Why We Created Tiny Skills

Between making a living and surviving in an uncertain and highly competitive world, every modern professional has to constantly work on a lot of things to come out on top.
We have been working on an all-in-one book of advice since 2003, which would help all modern professionals save time and money with handy solutions to any problems they're facing at work or in life.
In creating Tiny Skills, we went through 1000+ books when working on it, so you don't have to.

What's Inside: 13 Types Of Essential Skills Made Real Easy

1. Communication skills
2. Self Help skills
3. Self Improvement skills
4. Time Management / Productivity skills
5. Business skills
6. Writing skills
7. Thinking skills
8. Making a living
9. Freelancing skills
10. Starting a business
11. Running a business
12. Creating a tech startup
13. Career management skills.

(See Full Table Of Contents: All 290 Guides in 1 Place.)

You'll Benefit From Tiny Skills If:

You are someone who wants to transform your resume from ordinary to remarkable.
You want to 'do what you love' and still be able to build a career.
You want to learn about the 25 most useful productivity methods.
You want to talk to anyone, anywhere, anytime...even if you are not a 'natural'.
You want to be charming, likeable, and interesting.
You want to be happy, confident & successful.
You want to follow through on anything you start.
You want to build powerful connections

There are more than 5000 tips in this book!

What People Are Saying About Tiny Skills
Take it easy and give yourself a break. We are all doing our best in this uncertain world.