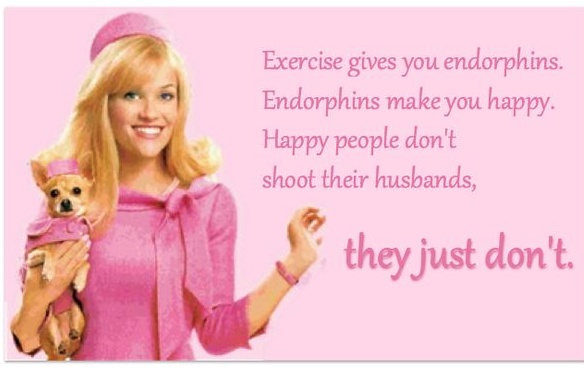 Legally Blonde, the movie that made Resse Witherspoon a star, turns 15 thos week. The movie, describing the advetures of the 'chronic dynamic and positive' Elle Woods , is based on novelist Amanda Brown's real-life experiences as a Harvard Law student.
Be physically active
1. Exercise gives you endorphins. Endorphins make you happy. Happy people just don't shoot their husbands, they just don't.
Do anything it takes
2. I worked so hard to get into law school. I blew off Greek week to study for the LSATs. I even hired a Coppola to direct my admissions video.
Read the newspapers (ahem, online news)
3.Hello, Patriots! I don't think I've been this excited since Gucci became a publicly-traded company.
No task is beyond me
4. Paulette, I taught Bruiser to shop online, I think I can handle congress.
5. I once had to judge a tighty-whitey contest for Lambda Kappa Pi. Trust me; I can handle anything.
Can handle both ends of the extreme
6. I feel comfortable using legal jargon in everyday life. (someone whistles at her) I object!
Knowing what is more valuable
7. Because I'm not a Vanderbilt, suddenly I'm white trash? I grew up in Bel Air, Warner. Across the street from Aaron Spelling. I think most people would agree that's a lot better than some stinky old Vanderbilt.
Passion, passion, passion
8. Passion is the key ingredient to the study and practice of law, and of life. It was for passion, courage of conviction, strong sense of self that we take our next step into the world.
Have faith
9. Remembering the first impressions are not always correct, you must always have faith in people, and most importantly you must always have faith in yourself.
Enthusiam rubs off on others
10. (Serena) You passed Spanish because you gave Professor Montoya a lap dance after the final.
Thank you for reading.
If you found this guide useful, please share this with your friends and family.
There are 200+ guides to succeeding in business, career and personal life in The Success Manual, a $12 PDF all-in-one guide.