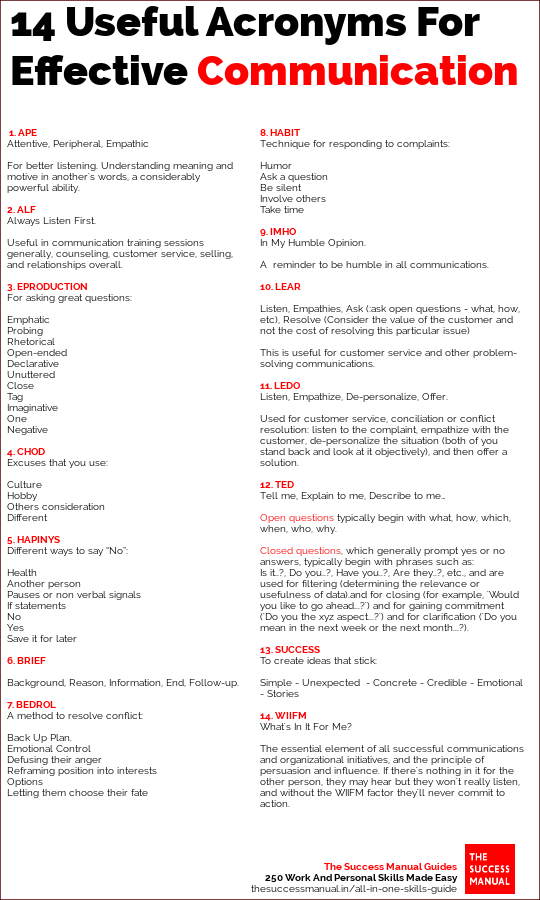 1. APE
Attentive, Peripheral, Empathic
The three main types of listening. Empathic listening is the skill of understanding meaning and motive in another's words, a considerably powerful ability.
2. ALF
Always Listen First.
Obviously great for communication training sessions generally, also counseling, customer service, selling, etc, and relationships overall.
3. EPRODUCTION
For asking great questions:
Emphatic
Probing
Rhetorical
Open-ended
Declarative
Unuttered
Close
Tag
Imaginative
One
Negative
4. CHOD
Excuses that you use:
Culture
Hobby
Others consideration
Different
5. HAPINYS
Different ways to say "No":
Health
Another person
Pauses or non verbal signals
If statements
No
Yes
Save it for later
6. BRIEF
Background, Reason, Information, End, Follow-up.
7. BEDROL
A method to resolve conflict:
Back Up Plan.
Emotional Control
Defusing their anger
Reframing position into interests
Options
Letting them choose their fate
8. HABIT
Technique for responding to complaints:
Humor
Ask a question
Be silent
Involve others
Take time
9. IMHO
In My Humble Opinion. Often used in web-messaging, emails and texting. Also a reminder to be humble in all communications.
10. LEAR
This is useful for customer service and other problem-solving communications.
Listen, Empathies, Ask (:ask open questions - what, how, etc), Resolve (Consider the value of the customer and not the cost of resolving this particular issue)
11. LEDO
Listen, Empathize, De-personalize, Offer.
Used for customer service, conciliation or conflict resolution: listen to the complaint, empathize with the customer, de-personalize the situation (both of you stand back and look at it objectively), and then offer a solution.
12. TED
Tell me, Explain to me, Describe to me…
Open questions typically begin with what, how, which, when, who, why.
Closed questions, which generally prompt yes or no answers, typically begin with phrases such as: Is it..?, Do you..?, Have you..?, Are they..?, etc., and are used for filtering (determining the relevance or usefulness of data).and for closing (for example, 'Would you like to go ahead...?') and for gaining commitment ('Do you the xyz aspect...?') and for clarification ('Do you mean in the next week or the next month...?).
13. SUCCESS
To create ideas that stick: Simple - Unexpected - Concrete - Credible - Emotional - Stories
14. WIIFM
What's In It For Me?
The essential element of all successful communications and organizational initiatives, and the principle of persuasion and influence. If there's nothing in it for the other person, they may hear but they won't really listen, and without the WIIFM factor they'll never commit to action.
Thank you for reading.
If you found this guide useful, please share this with your friends and family.
There are 200+ guides to succeeding in business, career and personal life in The Success Manual. Get the pdf ebook for $12 only.