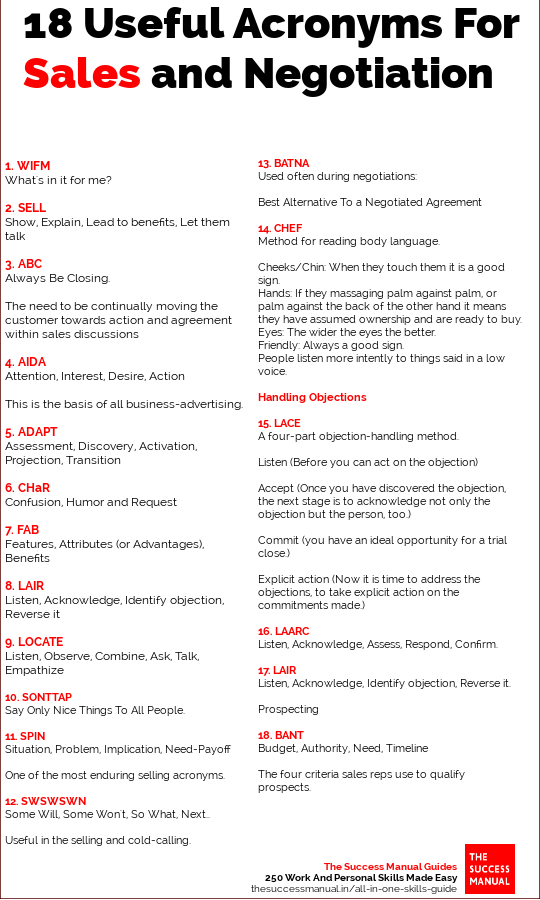 1. WIFM
What's in it for me?
2. SELL
Show, Explain, Lead to benefits, Let them talk
3. ABC
Always Be Closing.
The need to be continually moving the customer towards action and agreement within sales discussions
4. AIDA
Attention, Interest, Desire, Action
This is the basis of all business-advertising.
5. ADAPT
Assessment, Discovery, Activation, Projection, Transition
6. CHaR
Confusion, Humor and Request
7. FAB
Features, Attributes (or Advantages), Benefits
8. LAIR
Listen, Acknowledge, Identify objection, Reverse it
9. LOCATE
Listen, Observe, Combine, Ask, Talk, Empathize
10. SONTTAP
Say Only Nice Things To All People.
11. SPIN
Situation, Problem, Implication, Need-Payoff
One of the most enduring selling acronyms.
12. SWSWSWN
Some Will, Some Won't, So What, Next..
Useful in the selling and cold-calling.
13. BATNA
Used often during negotiations:
Best Alternative To a Negotiated Agreement
14. CHEF Method for reading body language
Cheeks/Chin: When they touch them it is a good sign.
Hands: If they massaging palm against palm, or palm against the back of the other hand it means they have assumed ownership and are ready to buy.
Eyes: The wider the eyes the better.
Friendly: Always a good sign.
People listen more intently to things said in a low voice.
Handling Objections
15. LACE
A four-part objection-handling method.
Listen (Before you can act on the objection)
Accept (Once you have discovered the objection, the next stage is to acknowledge not only the objection but the person, too.)
Commit (you have an ideal opportunity for a trial close.)
Explicit action (Now it is time to address the objections, to take explicit action on the commitments made.)
16. LAARC
Listen, Acknowledge, Assess, Respond, Confirm.
17. LAIR
Listen, Acknowledge, Identify objection, Reverse it.
Prospecting
18. BANT
Budget, Authority, Need, Timeline
The four criteria sales sales reps use to qualify prospects.
Thank you for reading.
If you found this list useful, please share this with your friends and family.
There are 200+ guides to succeeding in business, career and personal life in The Success Manual. Get the pdf ebook for $12 only.