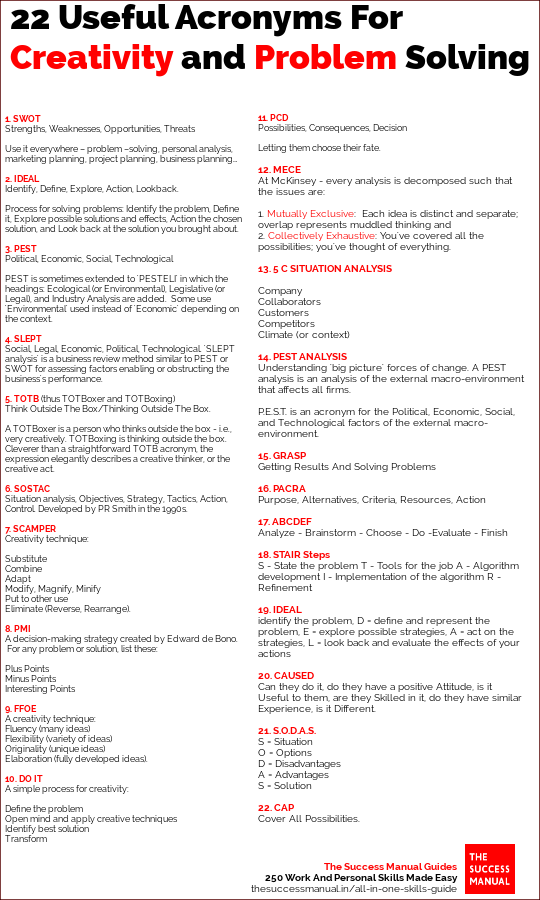 1. SWOT
Strengths, Weaknesses, Opportunities, Threats
Use it everyone – problem –solving, personal analysis, marketing planning, project planning, business planning…
2. IDEAL
Identify, Define, Explore, Action, Lookback.
Process for solving problems: Identify the problem, Define it, Explore possible solutions and effects, Action the chosen solution, and Look back at the solution you brought about.
3. PEST
Political, Economic, Social, Technological
Some use 'Environmental' used instead of 'Economic' depending on the context.
PEST is sometimes extended to 'PESTELI' in which the headings: Ecological (or Environmental), Legislative (or Legal), and Industry Analysis are added.
4. SLEPT
Social, Legal, Economic, Political, Technological. 'SLEPT analysis' is a business review method similar to PEST or SWOT for assessing factors enabling or obstructing the business's performance, and typically its development potential.
5. TOTB
(thus TOTBoxer and TOTBoxing)
Think Outside The Box/Thinking Outside The Box.
A TOTBoxer is a person who thinks outside the box - i.e., very creatively. TOTBoxing is thinking outside the box. Cleverer than a straightforward TOTB acronym, the expression elegantly describes a creative thinker, or the creative act.
6. SOSTAC
Situation analysis, Objectives, Strategy, Tactics, Action, Control. SOSTAC is a business marketing planning system developed by writer and speaker PR Smith in the 1990s.
7. SCAMPER
Creativity technique:
Substitute
Combine
Adapt
Modify, Magnify, Minify
Put to other use
Eliminate (Reverse, Rearrange).
8. PMI
A decision-making strategy created by Edward de Bono. For any problem or solution, list these:
Plus Points
Minus Points
Interesting Points
9. FFOE
A creativity technique:
Fluency (many ideas)
Flexibility (variety of ideas)
Originality (unique ideas)
Elaboration (fully developed ideas).
10. DO IT
A simple process for creativity:
Define problem
Open mind and apply creative techniques
Identify best solution
Transform
11. PCD
Possibilities, Consequences, Decision
12. MECE
At McKinsey - every analysis is decomposed such that the issues are:
1. Mutually Exclusive: Each idea is distinct and separate; overlap represents muddled thinking and
2. Collectively Exhaustive: You've covered all the possibilities; you've thought of everything.
13. 5 C SITUATION ANALYSIS
Company
Collaborators
Customers
Competitors
Climate (or context)
14. PEST ANALYSIS
Understanding 'big picture' forces of change
A PEST analysis is an analysis of the external macro-environment that affects all firms.
P.E.S.T. is an acronym for the Political, Economic, Social, and Technological factors of the external macro-environment.
15. GRASP
Getting Results And Solving Problems
16. PACRA
Purpose, Alternatives, Criteria, Resources, Action
17. ABCDEF
Analyze - Brainstorm - Choose - Do -Evaluate - Finish
18. STAIR Steps
S - State the problem T - Tools for the job A - Algorithm development I - Implementation of the algorithm R - Refinement
19. IDEAL
identify the problem, D = define and represent the problem, E = explore possible strategies, A = act on the strategies, L = look back and evaluate the effects of your actions
20. CAUSED
Can they do it, do they have a positive Attitude, is it Useful to them, are they Skilled in it, do they have similar Experience, is it Different.
21. S.O.D.A.S.
S = Situation
O = Options
D = Disadvantages
A = Advantages
S = Solution
22. CAP
Cover All Possibilities.
Thank you for reading.
If you found this list useful, please share this with your friends and family.
There are 200+ guides to succeeding in business, career and personal life in The Success Manual. Get the pdf ebook for $12 only.