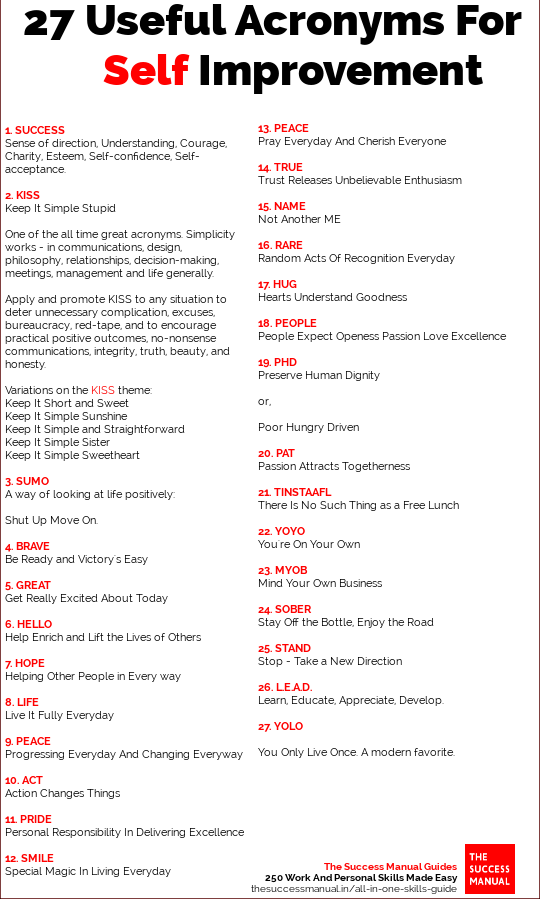 1. SUCCESS
Sense of direction, Understanding, Courage, Charity, Esteem, Self-confidence, Self-acceptance.
2. KISS
Keep It Simple Stupid
One of the all time great acronyms - a motto and reminder that simplicity works - in communications, design, philosophy, relationships, decision-making, meetings, management and life generally.
Apply and promote KISS to any situation to deter unnecessary complication, excuses, bureaucracy, red-tape, and to encourage practical positive outcomes, no-nonsense communications, integrity, truth, beauty, and honesty.
Variations on the KISS theme:
Keep It Short and Sweet
Keep It Simple Sunshine
Keep It Simple and Straightforward
Keep It Simple Sister
Keep It Simple Sweetheart
3. SUMO
A way of looking at life positively:
Shut Up Move On.
4. BRAVE
Be Ready and Victory's Easy
5. GREAT
Get Really Excited About Today
6. HELLO
Help Enrich and Lift the Lives of Others
7. HOPE
Helping Other People in Every way
8. LIFE
Live It Fully Everyday
9. PEACE
Progressing Everyday And Changing Everyway
10. ACT
Action Changes Things
11. PRIDE
Personal Responsibility In Delivering Excellence
12. SMILE
Special Magic In Living Everyday
13. PEACE
Pray Everyday And Cherish Everyone
14. TRUE
Trust Releases Unbelievable Enthusiasm
15. NAME
Not Another ME
16. RARE
Random Acts Of Recognition Everyday
17. HUG
Hearts Understand Goodness
18. PEOPLE
People Expect Openess Passion Love Excellence
19. PHD
Preserve Human Dignity
or,
Poor Hungry Driven
20. PAT
Passion Attracts Togetherness
21. TINSTAAFL
There Is No Such Thing as a Free Lunch
22. YOYO
You're On Your Own
23. MYOB
Mind Your Own Business
24. SOBER
Stay Off the Bottle, Enjoy the Road
25. STAND
Stop - Take a New Direction
26. L.E.A.D.
Learn, Educate, Appreciate, Develop.
27. YOLO
You Only Live Once. A modern favorite.
Thank you for reading.
If you found this list useful, please share this with your friends and family.
There are 200+ guides to succeeding in business, career and personal life in The Success Manual. Get the pdf ebook for $12 only.