Image of The Week: The Best People Skills Tip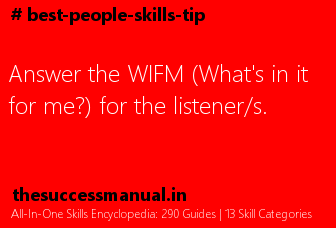 Career Advice #1: Four Ways to Handle Interview Questions You Don't Know How to Answer
From The Muse: What to say in an interview when you just don't know how to respond to
1. Take Your Time: "Hmm… that's a great question. Let me think about that..."
2. Think Aloud: Recruiters want to know how you think, not you coming at the right answers.
3. Redirect to an area you are familiar with.
4. Have a Fail-Safe for questions that call for definitions or understanding of concepts that you don't know can't just be worked through on the spot

5. Start with the research you've done about the company and industry the position/ Just showcase your enthusiasm for the position and knowledge of the industry.
Career Advice #2: Master the Six Qs to Make an Impression In Job Interviews

From The Washington Post: Each 'Q' stands for one important skill area. You should try to include specific examples for each of the following skill areas.
IQ: Skills like critical or strategic thinking, problem solving, and being able to keep an eye on the overall picture.
EQ: Social skills that lead to success in the workplace - being able to communicate well, resolve conflict while preserving relationships, and empathy for your colleagues or clients.
PQ: Your passion for working at a company or in a specific industry. Often this can mean aligning with the mission of the company or having ambition.
CQ: Cultural fit - Helps you work well with your team or other departments in the organization.
CRQ: Your ability to deal with tough situations, like giving feedback or working with difficult colleagues.
IMQ: Flexibility and being able to adapt when things don't go smoothly, including proposing solutions and having successful projects even when they get off track.
Self Help Advice: Use the "SBNRR" Technique to Handle Stressful Moments Mindfully

SIY (Search Inside Yourself) instructor Robert Chender, who teaches mindfulness, offers the "Siberian North Rail Road" response (or SBNRR) to stressful moments in your life:
Stop: Don't get wrapped up in the emotion or making an impulse decision. Take a break.
Breathe: Take a deep breath to clear and calm your mind.
Notice: Notice what you're experiencing on a moment to moment basis- emotions, feelings, sensations...are they appropriate or overblown.
Reflect: What's causing the emotion? Is it the right response?
Respond: Think of all the different courses of actions you can take.
Quote of The Week
"So many books, so little time."
- Frank Zappa