Running a business
Business sense says you must find customers who bring you more business and discourage those who make you less profit (but involve the same amount of overheads and time). Go after bigger ...
---
Running a business
Even companies, whose products are selling like anything, run out of cash. Reason is simple: They are spending a lot in getting the product out to market (staff, inventory, manufacturing,...
---
Running a business
The small print written on bottom of invoices of invoices, for example. But they are more than that. They help you set up profitable and sustainable deals with your customers - you get pa...
---
Running a business
Track everything: Staff costs, overheads, interest on loans, overdraft (help you with any urgent, hopefully short-term working capital needs) fees, bad debt, matching purchase orders (when you send a ...
---
Running a business
An entrepreneur may not have much money for the business, but everyone has the same amount fo time everyday. - Make realistic daily to-do lists - Get more work done when you ...
---
Running a business
To get more sales, Read up on effective 'sales techniques'. Find out why people are buying products from competition - is it about benefits, branding or both? Be help...
---
Running a business
Use any method that gets you to where most of your customers are. Choose from this mix, or add your own. - Retail shops: Common in industries with established distributor/retail networks....
---
Running a business
Getting an office Where will your office be? Where will be the product/service available? (physical location/s, web site, mobile app, other stores - offline and online, etc) &...
---
Running a business
Bringing it to life. 'How will I make it?' Make rough notes on the idea: - Use cases (stories of how customers will use the product/service) ...
---
Running a business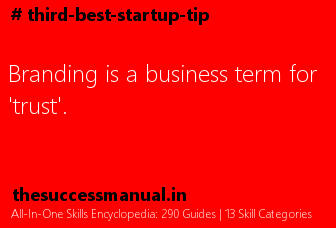 Branding is a business term for 'trust'. People buy from people they like and trust (testimonials, peer pressure). People buy benefits (cheaper, safe, convenient,...
---